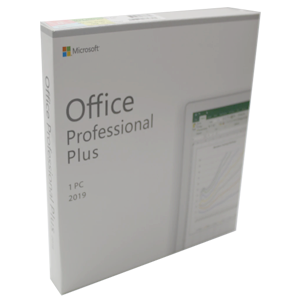 OFFICE 2019 BOX PP
100% Genuine Office 2019 Professional Plus Product Retail Key,
Both 32-bit and 64-bit Office Versions Support. DVD BOX
1 User / PC , Can be Reinstall Again after PC Formatting, Lifetime License Key , Lifetime Auto updates.
MAC OS Not Supported. Only Windows 10 Supported!
DVD BOX will send Registered Address, with in 4 Business days.. ( Check Email - After 2 Hours, Purchased details )
World-wide Availability, No Regional Restrictions. Can be used to activate Office Professional Plus 2019 in any region.
Office Professional Plus 2019 Includes:
✅Word 2019 ✅Excel 2019✅ PowerPoint 2019✅ Access 2019✅ Outlook 2019✅ One Note 2019✅ Publisher 2019
DVD BOX & PAPER PRODUCT KEY WITH PACKAGING, WILL SEND REGISTRED ADDRESS..

Free Delivery
For all oders

Safe Payment
100% secure payment

Shop With Confidence
If goods have problems
Business Hours Help
10am-10pm customer support