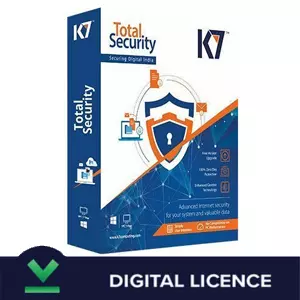 K7 TOTAL SECURITY
K7 Total Security , 1- Year, Install award-winning virus protection for your laptops and PCs. K7 total security offers
full Protection when you go for online banking, shopping or working online. The usage and set up is
quite easy and so, make yourself advanced with proper internet security.
Features:
Experience with full-edged
protection and get zero impact security on your device
performance. Installation and usage are quite easy. Non-technical users admire the userfriendly
interface as the structure is designed in a clear and simple way with a basic set up.
K7 upgrades and updates are free, which is well appreciated by the users.
The safe online transaction gives you full assurance of secured online shopping and banking. So, make sure
that all your banking information and passwords are safe
K7 total security 1 years plan is quite effective
to make your PC virus free. So, install a K7 Total
Security in your device and get protected from hackers and other external threats. Securing a
device from different
cyber-attacks has become an essential matter and so, this extensive and
exclusive product is designed for the users. K7 total security deals with various validity options that
are based on the subscription. So, consider it as a necessary and advanced protection for your
system.
How to Install K7 Total Security:

Download the current version From
http://apps.k7computing.com/Tools/K7ts/setup-eng-ts.exe
Double Click on setup-eng-ts.exe le.
Click on Install. It will Install K7 Total Security.
After Install Click on Activate to activate the License.
Click Next.
Click on Next and enter the password for the K7 Account and machine name.
Click Next and wait for sometimes it will activate the K7 Total Security on your machine

Free Delivery
For all oders

Safe Payment
100% secure payment

Shop With Confidence
If goods have problems
Business Hours Help
10am-10pm customer support